So I'm really into Doctor Who right now.
I mean REALLY into it.
Oddly enough, the question "Where have you been all my life" is one that can be answered: on TVO after Polka-Dot Door. I used to shut the TV off as fast as possible when that terrifying theme music started.
With the "new" series (which started in 2005 with Christopher Eccleston's Ninth Doctor) I don't know how I've gone this long without watching it, considering my previous love affairs with Star Wars, Star Trek, Avatar: The Last Airbender, and assorted other genre TV shows.
Engaging in a new fandom does crazy things to you:
You start to see references everywhere and find out who else is into your fandom.
You start to quote things from the show.
You laugh at things only other fans would get.
You collect pins on Pinterest. (It's currently my most populated board, with over 200 pins.)
You make crafts...
...and you Photoshop your own jokes.
You watch anything and everything associated with show, including symphonies, webisodes, parodies, fan-made videos, blooper reels, behind-the-scenes extras, convention panels, interviews, and whatever this is...
...and you pick up shows that your favorite Doctor (or other characters) happen to be on, even if they're remakes of shows they've already done on the BBC.
And you dress up and go to fan events.
And when a new episode is on, you experience a joy like no other.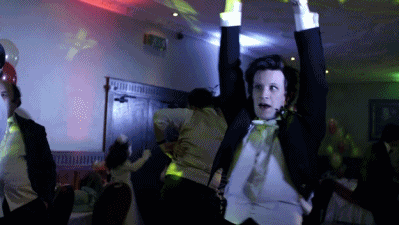 This is all a long way of saying...